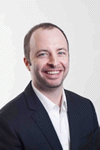 Greg Maurer brings a diverse set of business and legal skills to Heron Capital Equity Partners.

Prior to forming Heron Capital, Mr. Maurer worked as a corporate attorney at Schiff Hardin, L.L.P. in Chicago, Illinois...

Read more about Greg Maurer.
See the entire Heron Capital Team.


Scale Computing integrates storage, servers, and virtualization software into an all-in-one appliance based system that is scalable, self-healing and as easy to manage as a single server. Using industry standard components, the HC3 appliances install in under an hour, and can be expanded and upgraded....
View Our Portfolio