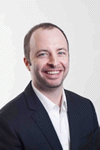 Greg Maurer brings a diverse set of business and legal skills to Heron Capital Equity Partners.

Prior to forming Heron Capital, Mr. Maurer worked as a corporate attorney at Schiff Hardin, L.L.P. in Chicago, Illinois...

Read more about Greg Maurer.
See the entire Heron Capital Team.


AirXpanders has developed a breast tissue expander, which may address the shortcomings and limitations of conventional saline-based tissue expanders.
The AeroForm patient controlled tissue expander offers a small, handheld wireless controller, that eliminates the need for percutaneous saline injections...

View Our Portfolio