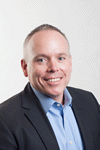 Kevin Etzkorn brings over 12 years of venture capital, operational, and technical management experience to the Fund.
Prior to joining Heron, Mr. Etzkorn was a Principal at CID Capital, a venture capital and private equity firm...

Read more about Kevin Etzkorn.
See the entire Heron Capital Team.


Atlantis Components, Inc., has developed and implemented a proprietary computer-aided manufacturing process that dramatically reduces the time and cost of creating the components of restorative dentistry, while also increasing quality. Atlantis has patented several key elements of this system, and stands to benefit strongly from the inevitable transformation....
View Our Portfolio