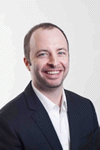 Greg Maurer brings a diverse set of business and legal skills to Heron Capital Equity Partners.

Prior to forming Heron Capital, Mr. Maurer worked as a corporate attorney at Schiff Hardin, L.L.P. in Chicago, Illinois...

Read more about Greg Maurer.
See the entire Heron Capital Team.


Biosurface Engineering Technologies was formed in 2001 with over 10 years of research and development in surface modification and drug coating of medical implants.
Spun out of U.S. Surgical's acquisition of InnerDyne, Inc. in 2000, BioSET established operations in the biotech...
View Our Portfolio