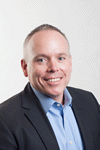 Kevin Etzkorn brings over 12 years of venture capital, operational, and technical management experience to the Fund.
Prior to joining Heron, Mr. Etzkorn was a Principal at CID Capital, a venture capital and private equity firm...

Read more about Kevin Etzkorn.
See the entire Heron Capital Team.


Scale Computing integrates storage, servers, and virtualization software into an all-in-one appliance based system that is scalable, self-healing and as easy to manage as a single server. Using industry standard components, the HC3 appliances install in under an hour, and can be expanded and upgraded....
View Our Portfolio