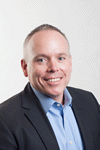 Kevin Etzkorn brings over 12 years of venture capital, operational, and technical management experience to the Fund.
Prior to joining Heron, Mr. Etzkorn was a Principal at CID Capital, a venture capital and private equity firm...

Read more about Kevin Etzkorn.
See the entire Heron Capital Team.


NeoChord is a venture backed medical device company that has developed a proprietary device which allows mitral valve repair to be performed on a beating heart through a 2 to 3 inch incision between the ribs in patients with severe mitral valve regurgitation. In contrast, most mitral valve repair procedures are performed through a 3 to 10 inch chest incision...
View Our Portfolio